Custom Orders
Yes, we can custom make pieces using any of our beautifully handcrafted motifs in gold or silver. If you have seen something on our website, Facebook or Instagram pages that you like but it has sold, is not the right size or needs some adjustments we can help.
If all this seems a little daunting, don't worry, we can help you decide on each element for your custom order.
We can add a Diamond, Ruby, Sapphire or a gold rivet to your existing piece of John Miller Design Jewellery. Prices start from $110 and it can be done while you have a coffee at the local cafe. Contact us to find out more.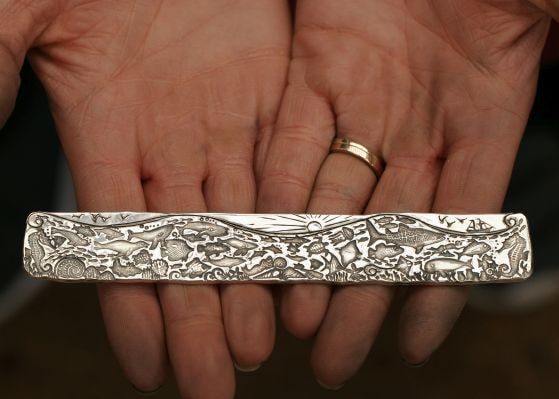 ---
Do you have a budget in mind?
What is the overall size of the piece?
Would you like a diamond or a gold rivet added?
Is there anything you don't want in the design?
When do you need your custom order?
Sizing
Providing us with the right measurements for your custom order or John Miller Design purchase is vital to ensuring a comfortable and secure fit. Cuffs, bangles and rings all need to be carefully sized prior to ordering and purchasing. The easiest way to make sure you've got the right size? Come into either our Yallingup or Margaret River Galleries and we'll show you how.
If you are unable to make it in, here are a few tips on how to determine the right size for your handmade piece of jewellery:
Bangle
To get a measurement for a bangle, measure the inside diameter of an existing bangle.
If you don't have a bangle that fits, find a friend with one that does, visit our gallery or contact us for more instructions.
Ring
Ring sizing is best left to the professionals. Come and see us or go to your local jeweller.
A wide ring will generally be a larger size than a narrow ring on the same finger.
We use alphabetic rings sizes in Australia and measure from the leading edge.
String, ribbon and strips of paper are not accurate ways of measuring due to variation in material width and thickness.
Need some help? Please feel free to contact us on (08)9756 6336 or (08)9757 9494 and we can assist you further.
Cuff
To get a measurement for a cuff, measure across the top of the wrist at the bone with a ruler – SEE IMAGE BELOW

Cuffs can start at about 48mm (kids size and petite) and can be made up to any size.
58mm is average for ladies and 65mm for men.
Our cuffs can be adjusted slightly to make them bigger or smaller.