Are you a seeker of beautiful, unique wares? A collector of new relics and one-of-a-kind artworks? A lover of shiny things born from the earth and shaped over time? Iconic southwest jewellery makers John Miller Design are the purveyors of such precious things – the keepers of unique works of art, made just for you. At John Miller Design, jewellery is more than just a necklace, a ring, a cuff or a bracelet – it's a piece of art.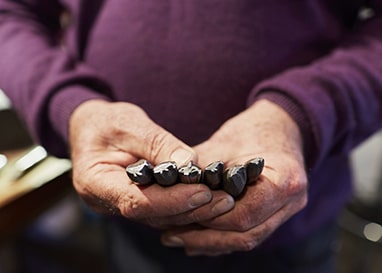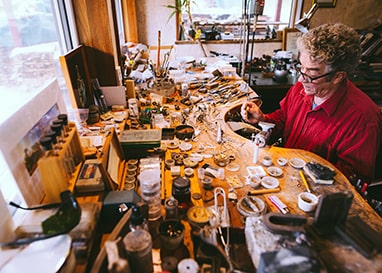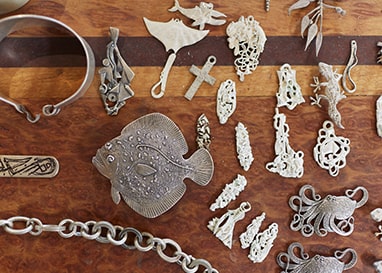 The Jewellery
Each piece of jewellery created here at John Miller Design reflects the idyllic Australian landscape found across Western Australia.
Native flora and fauna make for the perfect inspiration for our signature cuffs, stamped with hand-carved motifs and embellished with precious stones.
Designed and made by southwest jewellers, they're a true statement piece worthy of any wrist, jewellery box or art collection.
The Jeweller
John Miller is regarded as one of Australia's leading designers of fine jewellery. John's passion for jewellery making began with an internship at a Cottesloe jewellery shop, back in 1973.
The jewellery designer has since gone on to forge a reputation as one of Western Australia's best jewellers, specialising in hand-carved sterling silver and gold pieces.
Inspired by nature and the elements, John loves creating bespoke jewellery pieces in his original, distinctive style. Find him working away on your next treasure, at his workshop in Yallingup.
The Location
Located just minutes from the famous surf breaks of Yallingup, John Miller Design's flagship workshop and gallery is home to an array of jewellery pieces.
John is joined by two other fulltime jewellers in his Yallingup workshop, while master jeweller Marcus Cameron heads up John Miller Design Margaret River gallery.
Come in and meet the friendly staff and jewellers at both galleries, who will help you learn more about John Miller Design's unique jewellery pieces, the region that inspired them, and the business's active steps towards conserving it.
The Environment
Without the environment, there would be no John Miller Design. No muse, no inspiration. As such, we do everything we can to preserve it.
From the 24 solar panels that produce all the power we need to run the Yallingup gallery and the workshop and the rainwater tanks that feed our gardens, to the composting of all biodegradable food waste in the orchard and the planting of a wide variety of local flora (the property is listed with Land For Wildlife) – we make a conscious effort to protect the land around us, so it can continue to fuel our mind, body and soul.