John Miller Design is an iconic Australian artisan jewellery workshop renowned for creating bespoke wedding rings, unique engagement rings and wearable pieces of art. Here at John Miller Design we use only genuine sapphires and rubies and 'conflict free' lab certified diamonds. Our work is original, with quality craftsmanship, and is unconditionally guaranteed. John Miller Design prides itself on excellent, personalised customer service, competent repairs, remakes and alterations.
We make beautiful things that are meaningful and real.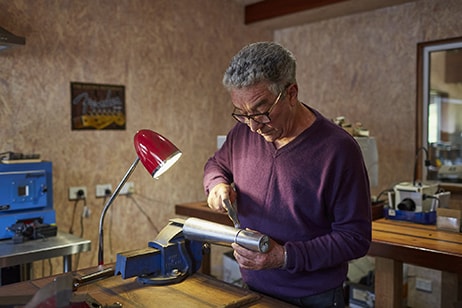 The Jeweller
John Miller is regarded as one of Australia's leading designers of fine jewellery. John's passion for jewellery making began with an internship at a Cottesloe jewellery shop, back in 1973.
The jewellery designer has since gone on to forge a reputation as one of Australia's most creative and original jewellers, specialising in hand-worked sterling silver and gold pieces.
Inspired by nature and the elements, John loves creating bespoke jewellery pieces in his original, distinctive style. Find him working away on your next treasure, at his workshop in Yallingup.